The Collection
The greatest and perfect combination for your daily aromatherapy needs, all 4 inhalers bundled ready to go. Collect them all!  
Regular price
$131.96
Sale price
$69.99
Unit price
per
Sale
Sold out
View full details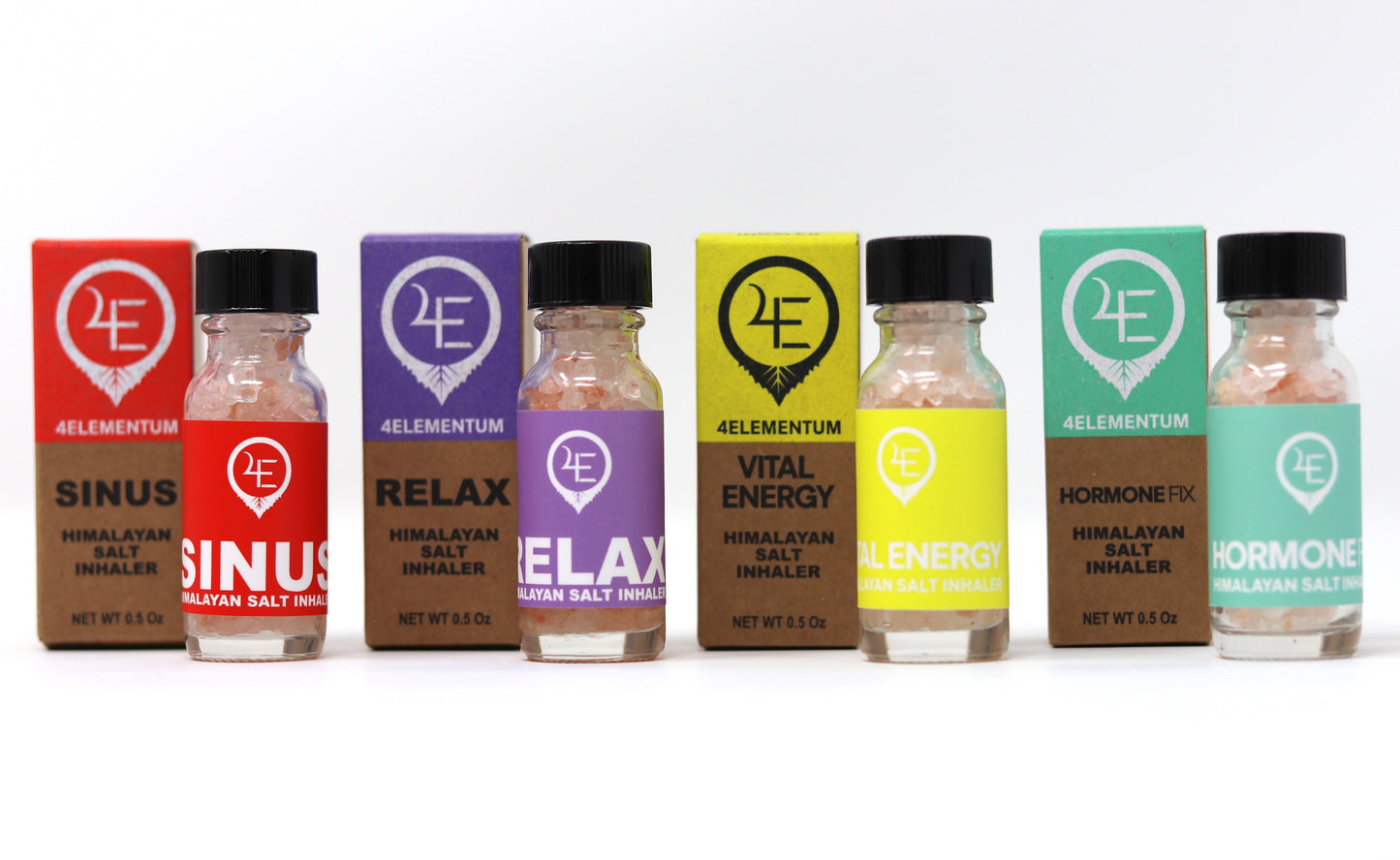 Product's features
HIGHLIGHTS

SINUS- SAY GOODBYE TO OVER-THE-COUNTER MEDS, this pure Himalayan salt inhaler has menthol, eucalyptus, peppermint and rosemary essential oils that when inhaled, the scent naturally goes deep into the inner walls of your lungs and may help alleviate a nasal congestion.

RELAX- LET STRESS MELT AWAY & NATURALLY FIND YOUR ZEN, Whether trying to alleviate stress or calm an overthinking mind, this unique blend of Marjoram and Ylang-Ylang essential oils might help to get rid of overwhelmed emotions, keeping your mind and body in a state of harmony.

ENERGY- THE SCIENCE SUPPORTS THE EFFECTIVENES, peppermint stimulates the part of the brain that controls mental clarity, rosemary increases blood flow, and Himalayan salt breaks down mucus in the lungs. Our awake aromatherapy is perfect for when you want to enhance your breathing and need that boost to focus!.

HORMONE FIX- POWERFUL TO EASE PMS ATTITUDE and the emotional imbalance caused by daily stress or mood swings due to hormonal changes. This unique blend of geranium rose, fennel, patchouli, and orange has a grounding, flowery, yet citrus smell that will help release stress, bring back your self awareness, and allow you to set intention that everything is ok.
INGREDIENTS

SINUS: Eucalyptus, Rosemary and Peppermint essential oils.

RELAX: Ylang-Ylang and Mororam essential oils.

VITAL ENERGY: Rosemary and peppermint essential oils.

HORMONE FIX: Patchouli, Geranium Rose, Fennel and Orange essential oils.
WHAT MAKES US DIFFERENT

Plant Based Aromatherapy

Himalayan Salt

Organic Cotton

Long Lasting

Travel Friendly
HOW TO USE

Inhale deeply, exhale slowly and repeat for better results. Or tap the organic cotton with fingers, then rub them together and inhale. To replenish when dry, shake and flip upside down. Recap tight to prevent spilling or to dry up.

CAUTION: Not to be ingested or sniff the salt, avoid contact with eyes, and keep out of reach of children. If pregnant or with medical conditions consult a doctor before use. 
Best Seller Himalayan salt inhaler
The best sellers from the Collection. Experiencing all three will improve your breathing, keep you calm, and boost your focus when needed.
Regular price
$98.97
Sale price
$49.99
Unit price
per
Sale
Sold out
View full details
The Favorites
This kit has our 2 best sellers from sinus and relax inhaler. Taking them you will get the best of both worlds. 
Regular price
$65.98
Sale price
$45.99
Unit price
per
Sale
Sold out
View full details
On-the-Go
Feeling continuous fatigue? Want some stress relief? Our energy and relax salt inhaler provides a zesty fresh scent that will give you that extra wake up or keep you calm
Regular price
$65.98
Sale price
$33.99
Unit price
per
Sale
Sold out
View full details